Is your staff complaining that they are too tired? Do they stand on their feet for prolonged periods of time? If so, there is a solution.
The solution to this problem is by providing employees with high quality industrial strength anti fatigue matting. These anti-fatigue floor mats provide cushioning, reduce vibration, and also reduce exposure to the hot and cold emitted by floors. This all makes standing much more comfortable.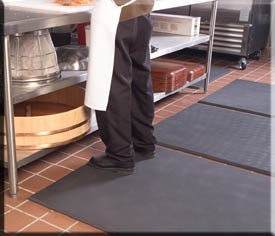 It doesn't matter if your staff is working in a kitchen, a hospital, a grocery store, or another industrial setting. All employees who have to stand during their job will benefit.
But any old mat won't do. It is important to get the world's softest and most durable industrial strength anti fatigue mat, which will pay for itself over time. It promotes employee wellness, morale, and comfort. This translates into better profits because happy employees are much more productive.
Here's what your employees will experience:
Reduced spinal compression
Reduced heat, cold, and vibration
Reduced fatigue in the foot, ankle, and leg areas because of the mat's ergonomic design.
When you're shopping for your mats, make sure they're approved by the National Floor Safety Institute. Among the mats that fit the bill are Ortho mats because they are user friendly and lightweight. They are also easy to clean. Because of their non-slip features, they're also approved by the NFSI, which has these mats scoring 50% higher than other sponge mats.
So what does this mean for you? It means you'll have a real asset for the workplace by reducing accidents and promoting better productivity.
Here's another plus of Ortho mats: they are also latex and silicone free, making them non allergenic. Plus their beveled edge means that service carts can roll over them with ease, which prevents accidents.
And last but not least, they withstand chemicals such as acids and bleach, which means that your anti fatigue mats will last for a long time and will pay for themselves over and over again.