Are you using bollards to protect your facilities — or your employees? If you'd rather not need to repaint constantly, we've got a solution for you: bollard covers!
Bollards are such an economical way to protect your buildings, your equipment, and your employees, it's a shame that some of those savings leech away in repair costs…
When a forklift should back up and go back too far, instead of hitting a wall, it will simply bump into bollards — causing much less damage.
But even a little damage costs money to fix. Bollards do get scraped and have to be repainted periodically, when they keep getting hit by forklifts or other heavy equipment. That can add up.
But it doesn't have to. That's why there are bollard covers, which you can simply slip over your bollards to protect them. They're designed for that purpose and will pay for themselves very quickly since they save you from the trouble and the expense of having to maintain the bollards themselves.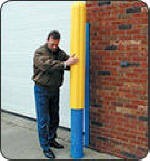 You'll probably realize right away that just one round of repainting the bollards — taking into consideration the cost of the labor and the paint — will more than pay for the bollard covers. And those covers will last for years.
There's another advantage to the bollard covers. They will also protect the equipment that hits the bollards as well!
So how do those covers actually work? They're are basically sleeves made out of very sturdy high density polyethylene and ribbed for extra protection. Their built-in UV inhibitors also protect them from rusting, cracking, and fading.
Now about how to install them…
That's the best part — just slide them onto the bollards and they're ready for action. You can get them in a variety of sizes to fit 4″, 6″ or 8″ pipes, and you can even trim them to fit perfectly.
Now about those colors… and how to add an extra layer of protection — since they make the bollards easier to see.
The regular sized bollard covers (56″ long) come in a variety of colors, including red, blue, yellow, and white, and even in orange, lime, brown, green, or black. There are also extra long ones (72″) available — in yellow only.