Are your bollards looking kind of ragged? Are you tired of repairing and repainting them all the time? Why not protect them with bollard sleeves?
Bollard Sleeves – Why Are They Needed
You know why bollards are taking a beating. They're designed to keep vehicles away from certain areas, especially those that could be easily damaged by impact. And they're doing their job really well.
But there's one problem: As the bollards keep the various vehicles out, they're getting scratched, scraped, and sometimes knocked over. And that means lots of repairs, at least if you want to keep them looking good.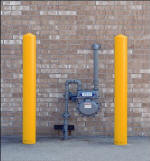 .
But this doesn't have to be the case. It's so easy to fix that problem. Just think about it… Why not be proactive and protect the bollards too. If you're tired of repainting them and fixing all those scratches and dents, that might seem like a logical solution. Especially since protecting them is easy and inexpensive: all you need to do is to invest in some bollard sleeves.
Bollard sleeves will help you beat three birds with one stone:
Bollard sleeves have many benefits. In fact, they beat three birds with one stone. Or if you like your benefits less metaphorical, they take care of three problems all at once, for the price of, well, the sleeves.
Here's what they can do:
a) They protect your bollards
The bollard sleeves will protect your bollards from scratches and dents. This means your bollards will last longer, and you won't have to fix and repair them anymore, or at least not nearly as often.
b) They make the bollards more attractive
The bollard sleeves will also make your bollards look much more attractive, at least as long as you like red or yellow bollards. But even if you don't, they will definitely make the bollards easier to see, which brings us to the next point:
c) They protect not just the bollards
Bollard sleeves don't just protect your bollards either. By making the bollards easier to spot, they help reduce collisions, which in turn reduces damage to not only the bollards but also to any vehicles that might otherwise have collided with them.
It's Easy to "Install" Bollard Sleeves
Best of all, bollard sleeves are easily installed, if you even want to call it "installed." All you have to do is pull the sleeves over the bollards and you're done.
Finally, bollard sleeves will also last a long time. Sturdy polyethylene construction along with UV protection will make them resistant to fading, cracking and even rusting. So the bollard sleeves will protect your bollards for years to come.