Can you really make your employees more productive? How about giving them more energy?
If you think this sounds strange, you haven't tried out fatigue mats!
You may know how exhausting it can be to stand on your feet all day long. So if some jobs in your facility require long hours of standing, you may find that fatigue mats can make a huge difference.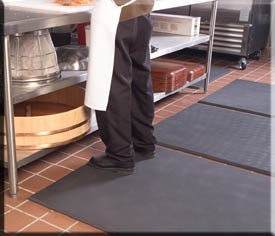 Fatigue is often seen as an unavoidable occupational hazard. Of course, it's not really unavoidable. In fact, it's easy to make your employees much more energetic by using providing them with fatigue mats.
So what are those things? They're mats with outstanding cushioning qualities, made out of high-quality foam material. They help alleviate foot pain, leg pain, and even back pain. Can you imagine just how much those kinds of aches and pains can slow anyone down?
And it doesn't stop there. The mats also reduce spinal compression, which helps prevent or alleviate back pain, and they increases circulation. They also help reduce exposure to heat, vibration, and cold.
Where should you use fatigue mats? Try industrial floors, hospitals and kitchens, along with many other places.
One of the best fatigue mats around is the Ortho mat, which has several additional perks, including non-slip features, and it's free of silicone and latex. They also last long, generally 3-8 years.
The makers of the Ortho mat claim it's the most comfortable fatigue mat anywhere. In fact, they're so sure of the superior qualities of their mats that they challenge anyone to request a sample and compare it with any other mats you like.