When oil spilled in a body of water, it usually means big trouble. Fortunately, there are some highly effective tools that allow us to limit the scope of the spill and clean it up.
A primary choice among the oil spill containment tools is the floating boom. And yes, it floats on water, just like the name says. Of course, that's what oil does as well.
So the floating boom works by keeping the oil where it is and preventing it from spreading. This is essential when it comes to containing the oil and minimizing damage.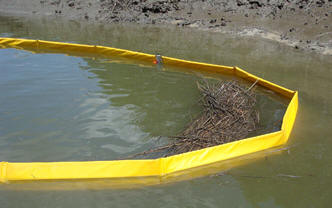 But wouldn't you know it — there are various different types of oil booms. Which one should you get?
First of all, even though there may be oil absorbent booms available, the ones you use for containment purposes are non-absorbent. Their job is to contain the spill, not to absorb it. Once the spill is contained, however, the absorbent booms and other absorbent tools can be brought in to remove the oil.
So how should you choose the best boom for your situation? There are booms for calm and protected waters. And then there are others that will still work effectively in much rougher water, such as along the shoreline or even further off the shore. You may also need a boom that allows to let boat traffic through…
A floating boom suitable for calm waters is the EconoMax oil spill containment boom. Lightweight and compact, it has flat panels and can be folded for easy transportation and storage. Keep it handy in boats, vehicles or trucks so you can quickly deploy it at a moment's notice.
The EconoMax floating boom has other great features, including handles for easy maneuverability. Plus it's washable so you can reuse it many times.