How do you best maintain your facility? There are so many maintenance products to choose from that it can be hard to know where to start… Here's a guide that will help you select the essentials — and get excellent quality products without breaking the bank.
Mostly, maintenance products are designed to keep the place clean and safe, yet you should include some preventive maintenance products as well.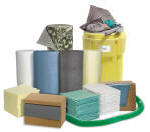 First, here are the key clean-up products.
In addition to the more traditional cleaners, you'll need quality absorbents. There are three types of absorbents you should have on hand:
1) Universal absorbents. They will work on most anything.
2) Oil only absorbents. Those are especially suited for hydrocarbon chemicals and oils, grease, fuel, diesel and similar chemicals.
3) Hazmat absorbents. Those are for the most noxious substances, but they also work for most of the above, so if you're not sure what you're dealing with, definitely keep some of those around.
You will also need things like absorbent pads and rolls a handy, effective, and economical option for a wide range of clean-up tasks. They're basically a bit like paper towels on steroids, so you should keep a generous supply of them handy.
For bigger jobs, you can also use pillows, socks, and berms.
For your preventive maintenance products, you should also consider including pallets and such, to prevent spills from occurring in the first place. You may also like wall guards, corner guards, bollards and bollard covers, in order to prevent vehicles and forklifts bumping into walls and equipment.
And where can you get all those products without breaking the bank? You'll find the highest quality for the best price when you shop online. In fact, if you're looking for safety maintenance products and want to make sure you've found a reputable supplier who offers maintenance products that meet OSHA standards, why not start with AbsorbentsOnline.com maintenance products!