If you're handling oil, you know it will drip. It's like a law of nature. And when it drips, it will make a mess. Unless, of course, you're prepared and are using oil absorbent mats!
And there are several types of oil absorbent mats to choose from, so you can be sure to have the right one for the job at hand.
Industrial strength oil absorbent mats come with different degrees of oil absorbency power, and some of them are even sturdier than the standard industrial mat.
That's because some of these oil absorbent mats have been designed for extremely rough use. So let's look at the various types of oil absorbent mats in turn: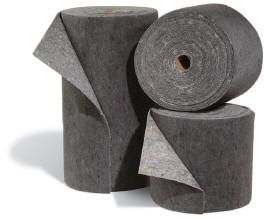 .
Industrial Strength Oil Absorbent Mats
First, let's look at the "generic" industrial strength oil absorbent mats. As the title already indicates, there's actually nothing generic about them. If you compare them with the kinds of mats you can get at your local hardware store, you'll see the difference – unless your local store specializes in providing industrial-strength oil absorbent mats.
A great version of those kinds of oil absorbent mats is the Rag Rug Industrial Absorbent Floor Mat.
These mats are made out of recycled) polypropylene along with acrylic fibers, which means that they can handle pretty high traffic. And they will also absorb all types of liquids including oil, solvents, and coolants. Whether you use them under machinery or on walkways, they'll help keep your facility safe.
In fact, they are ideal for most industrial settings, and will also be good oil absorbent mats options for your car repair shop or your garage.
Rail Road Track Mats
Maybe you want oil absorbent mats that are heavier and thicker as well as ideal for outdoor use, either on rail road tracks, or in other settings where the same features come in handy. If so, check out Rail Road Track Mats.
Here's what makes them different:
The most important feature is that they absorb only oil and other hydro-carbon based chemicals, while repelling water. This is crucial, because if they were to absorb water, they'd be out of commission 10 minutes into their first rain.
Instead, they're designed to protect the ground from oil and oil-based chemicals, and they do that job without being affected by the weather, good or bad. In fact, their UV-resistant cover material ensures that they can handle lots of sunshine as well.
Their other features support their main purpose – they have a ground layer which is poly-backed with a chemical-resistant material. This prevents any of the absorbed oil to leak out.
Their core consists of layers of meltblown absorbent material, suitable for absorbing impressive quantities of oil, three gallons of it per square yard, so they won't have to be replaced too often.
And while these particular oil absorbent mats have been specifically developed for railroad tracks, they are often used in a large range of other industrial settings where a high absorbency barrier is needed, from refineries to steel mills to transportation companies and many more.
If you need the toughest oil absorbent mats money can buy, you'll want to check out the Abzorb Mat.
It's not only the most durable and will be able to handle a lot of rough treatment, but it also has a backing that is completely non-penetrable. As a bonus, it also has non-skid features, which makes it ideal for walkways and will help keep your employees safe.
It's versatile too since it can be used indoors to protect office carpet as well as outdoors, where it can soak up vehicle leaks.
Unlike the railroad track mat, the Abzorb Mat will soak up all fluids. It's dark charcoal gray color is designed to mask splotches and dirt, and will keep it looking good for a long time.
Another helpful feature – it comes in rolls that are either 3 or 6 feet wide, and it can be cut into any size lengths that might be required.
Selecting Your Oil Absorbent Mats
There are more types of oil absorbent mats, most notably forklift mats, which are smaller in size to fit most forklifts. Just park your forklift on one of these mats, and they'll absorb any oil and battery acids that might drip from the forklift.
If you need help to figure out which oil absorbent mats to choose, just look at what you need them for and pick one accordingly. Or visit a quality dealer who will be happy to help you select the perfect oil absorbent mats for your business.