When you have posts outside of your business, they can get ugly fast. The paint chips off, the paint cracks, and it even fades. This can cause you to have eyesores in front of your place of business. And unfortunately, you feel as if you are having them repainted more than you should.
You see, there are businesses out there repainting their posts every time they turn around. They either take the time to do it themselves or they pay someone to do it for them. This, in the end, costs money and can cost quite a bit.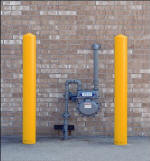 Fortunately, there is a solution that will save you from having to constantly repaint — or put up with ugly posts: Post sleeves!
Post sleeves make the task of making your posts look nice much easier. This is because post sleeves easily slip over your existing posts. They come in bright safety colors so that you don't have to worry about them not being seen by motorists and by indoor traffic such as warehouse machinery.
So when your posts start looking bad, don't worry about scraping them and painting them or hiring someone to do it for you. You can invest in post sleeves to simply slip over your posts and be done. They will last much longer than paint and they look really great.