Safety Bollards are great inexpensive tools that can help you protect equipment and facility structures from being damaged or employees from becoming injured.
Safety bollards simply let people know that what is beyond these yellow posts is something that they should stay away from. For example, if you want to avoid having anyone damage a building or an object with equipment such as a forklift, you can place safety bollards around the area you want to protect.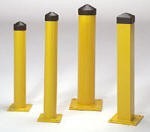 This piece of safety equipment is ideal for warehouses, retail establishments, parking lots, and many other areas.
Safety bollards come in two shapes and various sizes. There are round bollards, which are available in 4, 5, and 6 inches in diameter, and square bollards whose sides measure 5 inches. You can also get them in different heights, ranging from 24 to 42 inches, allowing even those riding in machinery to see the safety bollards.
These bollards are also powder coated for durability. To further the stability of the bollards, the base plates have pre-drilled holes so that you can anchor them down. You can also fill the bollards with cement by simply removing the black caps. This way you won't have to anchor them to the ground.
Safety bollards are quite inexpensive, so you can place as many bollards as you like both inside and outside of your facilities.  Just think about where you might want to keep people and equipment away from hazardous and/or easily damaged areas, or what you would like to protect from inadvertent impact.
Then safeguard those areas with safety bollards. Not only will you save money by not having to replace or repair equipment and structures, but you'll help prevent injuries as well.