Do you keep chemicals in your facility that are flammable, corrosive, poisonous, or dangerous to humans, animals, or the environment in any other way? If so, you want to ensure that they're locked away safely.
Of course, if you have a lot of chemicals, you should get a safety cabinet especially made to store the exact type of chemicals you have. You can get special cabinets for flammable materials, corrosives, and even for pesticides and other poisons.
But here's the thing. Maybe you have just a little bit of each and you need just one cabinet that can store them all. Or maybe you want to have smaller amounts handy while the rest is stored a bit more out of the way. So what you'd want is a smaller cabinet that can be used for different kinds of chemicals. And one that can be kept in a handy place without taking up too much — or any — floor space. If that's what you're looking for, you may want to consider a wall mounted safety cabinet.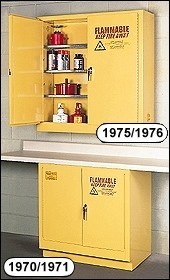 In fact, wall mounted cabinets can generally be used for storing a range of hazardous liquids. Like all high quality safety cabinets, they also help you comply with OSHA regulations and NFPA codes. All of which will give you some peace of mind as you can be sure to do what you need to do to keep your employees and your facility safe.
So if you want to keep those chemicals handy, and maybe if you don't even have that many to begin with, you may find wall mount safety cabinet a good choice for your facility: They easily fit on the wall above work spaces, thereby offering convenient storage at eye level.
Another convenient feature is that they won't take up any floor space. They're just 12″ deep, yet they can hold up to 24 gallons.
Whatever you do, make sure that your new wall mounted safety cabinets meet all the same safety specifications that you would expect from more specialized safety cabinets. All of our cabinets of course meet all the highest specifications, from 18 gauge steel construction, to double-walled walls and doors, and much more.