Are your bollards looking a bit worse for wear? Although they are durable, harsh weather conditions if used outside and the normal wear and tear can take its toll.
Bollards are made to be very sturdy in that they can withstand impact. You can anchor them to the ground or you can fill them with cement so they won't move when they are impacted. This can make them difficult to move when they need replaced.
Luckily, you can skip replacement or even maintenance by using a bollard cover for each post. The bollard cover covers up any blemishes that may make the post look like an eyesore.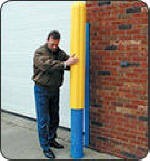 You can also prevent blemishes because the ribbed design enables the cover to absorb impact. This saves you a lot of money. And in addition, considering that the object coming into contact with the bollard could be damaged as well, you're also likely to save even more because you won't have to repair them.
So by making a modest investment in bollard covers, you are saving yourself a lot of money and aggravation. After all, you only need one person to slip the cover onto the bollard. If you had to repaint or replace the bollard, it would take two or more people. So not only do you save those manpower hours, but those people risk injury if the bollard is anchored or filled with cement.
So when you're looking to make an investment that will save you money and keep your business facility looking great, a bollard cover for each bollard will do just that. With 7 colors and various sizes to choose from, you can make sure your bollards are easy to see and avoid — and even make them fit with your preferred color scheme.