If you're working with hazardous chemicals, you know they can cause serious environmental damage if they should spill.
Fortunately, there are spill control products that can protect you, your company, your employees, and the environment.
Let's say you transport or store hazardous chemicals. You know you must be prepared for spills — they are going to happen sooner or later. And of course, it's the law. There are federal and state regulations that specify exactly what you have to do.
But that still doesn't tell you exactly which types of spill control products to select. It seems that there are so many options that picking just the right one can be confusing.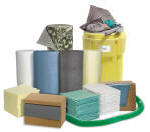 There are containment berms, oil booms, spill pallets, safety cabinets, absorbents, spill kits, and clean-up products. All those choices can make your head spin.
Luckily, it's not as complicated as it may seem. Just group the various spill control products into categories, and it becomes a lot clearer what will be the best choice for your specific situation.
1) Containment
The first thing you have to do when there's a spill — contain it. So you get containment products to prevent the spill from spreading too far. They also make clean-up much easier.
Among the options here are spill containment berms and booms, plus pallets and cabinets. All of them have in common that they either prevent or delay major spill-induced damage.
In addition, there is an entire line of products that can help protect the environment in a slightly different way: Mats. And needless to say, there are plenty of choices, from all-purpose utility mats to railroad containment mats, which are the most heavy duty mats available. Some of them absorb only oil and repel water, while others absorb any liquid.
2) Absorbents
Absorbents are the other key ingredient in any spill control effort. While the above-mentioned containment products do what their name says and contain the errant liquid and prevent it from spreading, they rarely actually clean it up.
That's why you'll need absorbents too. Those can include spill kits, which, like all absorbents, are available in three main types, i.e., oil only, hazmat, and universal (for everything else). They are available in a range of sizes, from small and easily portable all the way to entire drums filled with absorbents.
So you see that when it comes to workplace safety, you do have a lot of options. Just match your situation with the right spill control products, and you're covered. And if you don't see what you like, or have questions as to which product is right for you, just ask. The owner or manager of any high-quality safety equipment company will be glad to help you.